Pin It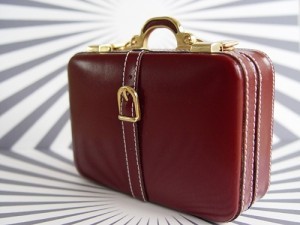 As I have been packing up this morning for a very quick jaunt to Los Angeles for a fun meeting with Marshalls, I've been thinking 'What are your travel must-haves?' Especially for short trips.
I was laughing with my husband as I was packing, because the trip is for one night, but you can't really tell that, given how heavy my suitcase is. And, I am doing some shopping while I am there, so I have a suitcase inside an empty suitcase.

A girl's gotta be prepared for good finds!
Here are my travel must-haves for a quick trip:
Reading material for the plane and airport (because we all know we usually end up sitting at the airport forever!)
Cash (for food, taxis)
Makeup/Hair care
An extra outfit in case I change my mind about the one I brought
An extra pair of shoes…to go with the extra outfit
Tech stuff – phone, video camera, cords, sd cards (I'm leaving my baby, aka laptop, at home. Will I survive?!)
I think that about sums it up! Now it's your turn? What are YOUR travel must-haves?