I'm a proud mama. Are you? I love to talk about my kids and they always come up in conversation when I meet someone new or are sitting with friends over a coffee. I've never really thought about wearing jewelry that represents my three kids and I'm not really sure why. Maybe because I hadn't find the right piece (I'm a little picky) or the right collection that really spoke to me, until now.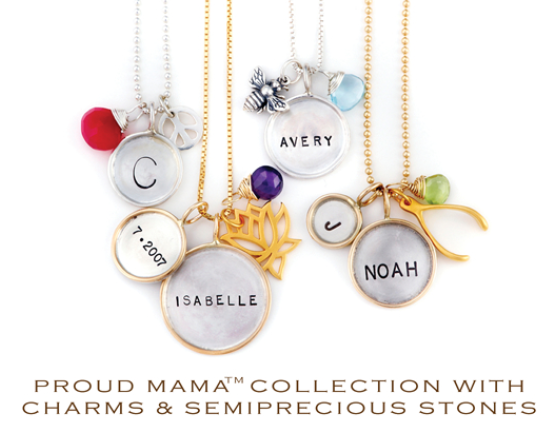 Introducing Jenny Present's new line of personalized charm/initial necklaces – The Proud Mama Collection. They are stunning.
This collection of "Proud Mama" necklaces were inspired by the birth of her son, and are the foundation of which she built her line.  They're completely customizable, and provide a truly unique and personalized gift.
Here are a few more pictures of the collection, which includes these gorgeous charms.

I can't think of a better gift I would love to receive, that show off three human beings on this earth that bring such immense joy to my life, than this collection.
Visit the Jenny Present website to see all of her collections.