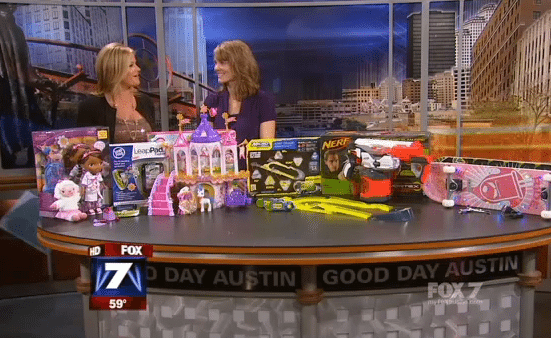 Not only do I love home and fashion topics, but I also love toys and parties! I love them so much in fact that I had the chance to go on Good Day Austin and chat about Top Holiday Toys. It was so much fun and they were so nice! Watch this clip where I share some of the year's hottest toys and see the camera man get shot with a Nerf gun. Adults + Nerf Guns Always Equals FUN.
MyFoxAustin | KTBC | Fox 7 Austin | News Weather Sports
For several years I covered the topic of toys on another blog. For a number of reasons I decided to part with it and took a step back to figure out what I wanted to do next. Shortly after that, Mom Fabulous was born where I could share my love of home and fashion. But, there was that little voice in the back of my head reminding me how much I loved covering toys. I missed it! My kids may be older now and mostly passed the toy stage, but I'm still a kid at heart who loves playing with toys. Grow up? Pfffft! Over-rated right?
If you're looking for top holiday toys, gift ideas for your kids or party ideas and supplies, Parties365 is here to help. Hop on over and visit me there to say hi!