Inside: Are you looking for college care package ideas to send? Here's the scoop on what they really want/need.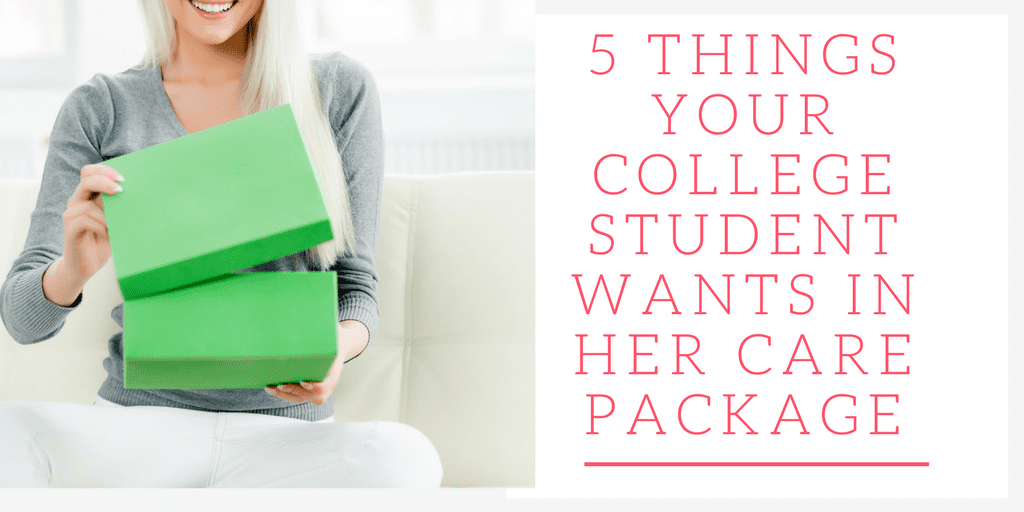 So it's the middle of the semester, and your college kiddo is basically drowning in homework, tests, and that ever-present midterm paper that just won't go away no matter how many times she wishes it would. She misses home, and Christmas break is just a little bit too far away. The perfect thing to cheer her up? A care package!
Here are a few gift ideas to make the stretch to Christmas break feel a little shorter.
5 Things Your College Student Wants In Her Care Package
1) Dorm Food
Picture this: it's late at night, and your college kid is trying to study for a big test the next day. The cafeterias are closed, the restaurants closed hours ago, and the only option is the vending machine down the hall. Solution? Care package food!
Things like oatmeal, mac-and-cheese, microwave popcorn, packaged nuts, dried fruit and granola bars will make the perfect midnight snack for your kiddo, and save her a trip to the vending machine for the third time that night.
2) Things You Know They Love
Everyone has something they're interested in or love doing. Maybe it's music or movies, maybe it's arts and crafts, maybe it's science or history or reading. Whatever it is, find a few things tailored to their specific interest to put in the package.
If they're artsy, send some mini canvases and paints. If they're a movie buff, send a few of their favorite DVDs. If you've got a bookworm, send a Barnes and Noble or Amazon gift card so they can look at books to their heart's content.
Things like this can really cheer a student up during the stressful college years.
3) Personal Hygiene
In college, basic necessities tend to run out fast, and usually at the worst times. (Contact solution, I'm looking at you).
Including some basic necessities, like toothpaste, floss, shampoo, and razors in their care package to save them additional stress, and a trip to the store, during stressful times. You could also include a mini first aid kit for those out-of-nowhere accidents and ever-present heel blisters.
If you like this post, here are more college related ones on Mom Fabulous:
4) Cleaning Supplies
Like the basic hygiene necessities, cleaning supplies can easily be forgotten, right up until the dorm is starting to smell and look less than pleasant. They can also add up over time and get pricey, which isn't exactly college-budget-friendly.
Include some wipes, cleaning spray, paper towels, or air freshener so your college kid is always prepared to clean her dorm, even when she really doesn't want to.
5) Holiday Decorations
If there's a holiday coming up, some small decorations or candy will surely be appreciated. It'll make their dorm feel cheery, and more like home.
If it's Halloween, send their favorite candy and a baby pumpkin to put on their desk for some holiday cheer. If it's Christmastime, send a little tree (if it fits) and maybe a set of Christmas PJs to get her in the Christmas spirit right before the semester
Receiving a college care package in the mail always makes my daughter so happy. Plus, it lets her know she's loved, missed and thought of.