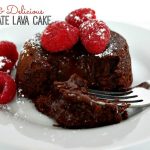 Print Recipe
Chocolate Lava Cake with a Hint of Orange
A chocolaty, warm dessert that's easy to make and will receive rave reviews.
1/2

cup

semi-sweet chocolate chips

4

Tbsp

butter

4

tsp

sugar

1/2

tsp

vanilla extract

1/4

tsp

orange extract

you can add 1/4 tsp more if you'd like

2

eggs

2

Tbsp

flour

raspberries

optional

whipped cream

optional
1. Preheat oven to 400 degrees F.

2. Melt the chocolate chips and butter together in a microwave safe bowl in the microwave. Start with 30 seconds and stir. Add an additional 30 seconds if mixture is still not melted.

3. After the mixture is melted, add the sugar, vanilla and orange extract and whisk together.

4. Allow the chocolate to cool just a bit (about 3 to 4 minutes) before you add the eggs. After it's cooled slightly, add the eggs one at a time, whisking after each one. Whisk until batter is smooth.

5. Stir in the flour until mixed in.

6. Spray generously the bottom and sides of 2 ramekins with cooking spray. This is necessary so they will release easily and in tact.

7. Add the batter to each ramekin. They will both be about 3/4 full.

8. Put the ramekins on a cookie sheet and bake for 10 to 12 minutes. The cake will be baked and when touched, the center will be very soft. (That's where the chocolaty goodness is hiding.)

9. You can serve the cake in the ramekin or turn it onto a plate after one minute. To do this, put the plate over the ramekin and turn them both upside down. Slowly lift the ramekin. If the cake seems to not be releasing, turn it back over and take a butter or pairing knife and run it along the edge to release. Flip the ramekin onto the plate again and release.

10. This is where you can get creative. Serve the chocolate lava cake with raspberries and whipped cream as I did. You could also serve with ice cream or orange slices. It's also delicious dusted with powdered sugar.