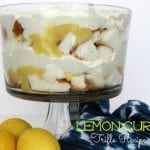 Print Recipe
Lemon Trifle with Homemade Lemon Curd Recipe
A light, refreshing, lemony dessert that's perfect for summer time.
1. Make the whipping cream according to the containers directions. I use heavy whipping cream and add a little bit of powdered sugar and 1 tsp. of vanilla extract. Set aside.

2. Cut angel food cake into cubes. Set aside.

3. In a trifle dish, layer angel food cake, lemon curd, whipping cream. Repeat layers and end with whipping cream. You can sprinkle a little bit of lemon zest on top for some gorgeous yellow color.

4. Refrigerate until ready to serve.