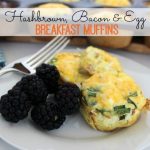 Print Recipe
Hash Brown, Bacon and Egg Breakfast Muffins
A hearty breakfast muffin that will stick with you until lunch. It's like a loaded baked potato in muffin form. Yum.
1. Spray a muffin tin with cooking spray.

2. Put a small layer of hash browns on the bottom of the muffin tin. Lightly spray the top of the hash browns with vegetable spray or lightly brush with vegetable oil.

3. Cook in a 400 degree oven for 20 minutes.

4. While the hash browns are cooking, prepare your filling ingredients. Cook and chop up the bacon. Chop up the green onions. Beat the milk and eggs together. Grate the cheese. Sprinkle in a little salt and pepper in the eggs.

5. After the hash browns are done, sprinkle on top the bacon and green onions. Pour the egg mixture evenly into the cups. Lastly, sprinkle the grated cheese on top.

6. Bake in a 350 degree oven for 15 minutes, or until the egg is set.

7. Serve with fresh fruit.