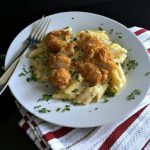 Print Recipe
Penne Pasta with Alfredo Sauce & Chicken Strips
An easy to prepare, fast to make and tasty meal that pleases even the pickiest of eaters. It's on the table in under 30 minutes!
Tyson® Crispy Chicken Strips

1

Tbsp

olive oil

2

cloves

of garlic

minced

1

Tbsp

flour

2

cups

chicken broth

1

cup

of milk

or you can use heavy cream

8

oz.

of penne pasta

1 to 1 1/2

cups

of freshly grated Parmesan cheese

or you can use the pre-shredded for ease, just don't use the powder that comes in the cans!

Salt to taste

Pepper to taste

Chopped parsley for garnish
1. Preheat the oven to the temperature on the Tyson® Crispy Chicken Strips package (400 degrees F)

2. Spread the chicken out on a cookie sheet and back for 15 to 20 minutes. I like to turn it once for crispiness. I'll also sometimes turn on the broiler for just a few seconds per side.

3. Heat the Tablespoon of olive oil in a large skillet and add the minced garlic. Cook for about a minute, careful to not burn it.

4. Add the Tablespoon of flour and mix into the oil and garlic. Cook it for an additional minute until it's slightly browned.

5. Slowly whisk in the chicken broth, then the milk, making sure to whisk away any lumps of your flour mixture.

6. Add the penne pasta, stir and bring to a boil.

7. After it comes to a boil, reduce the heat to simmer, cover and cook for 15 to 20 minutes, until pasta is tender.

8. Remove from heat and add the Parmesan cheese and stir.

9. Season with salt and pepper to taste.

10. Plate the penne pasta with alfredo sauce, top with the strips of chicken (I cut them into slices) and sprinkle with the chopped parsley.