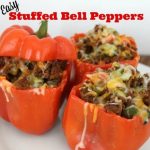 Print Recipe
Easy Stuffed Bell Pepper Recipe
An easy stuffed bell pepper recipe perfect for a weeknight meal.
5

red

yellow, or orange bell peppers (make sure they're round in shape for easier stuffing)

3

Tablespoons

olive oil

1/4

cup

diced onion

1

cup

diced bell peppers

I did half green, half red

2

garlic cloves

minced (or use 1 teaspoon garlic powder)

A handful of fresh spinach

1

pound

ground beef

2

Tablespoons

tomato paste

1/2

teaspoon

chili powder

1/4

teaspoon

cumin

1/2

teaspoon

salt

or more depending on preference, just taste before you add more at the end

1/4

teaspoon

black pepper

Grated Cheddar

or Co-jack cheese for topping
1. Preheat oven to 350 degrees F.

2. Chop your 1/4 cup onion and half cup bell peppers for filling. Set aside.

3. With a paring knife, cut off the top of the pepper. Discard or save to top your pepper bowls with. Discard the seeded core. Place the peppers on a parchment lined oven safe dish. Bake for 10 minutes or until soft. (You don't want them to be wrinkly yet at this point because you're going to bake them again as a last step.)

4. While the whole peppers are baking, pour your 3 Tablespoons of olive oil and heat in a skillet over medium heat. When the oil is hot, add the diced onions and peppers and cook for 2 to 3 minutes until soft. Add the minced garlic and cook about 1 minute. Add the spinach and cook for 1 minute. Add the 1 lb of ground beef and break it up with a wooden spoon. Stir it into your vegetable mixture and cook for 2 to 3 minutes. Add the tomato paste, chili powder, cumin, salt and pepper. Cook until the meat is mostly browned, about 10 minutes.

5. Divide the meat mixture evenly into your prepared whole bell peppers. Return them to the oven for 7 minutes. Add cheese (optional) and cook another 3 minutes. If you don't add cheese, cook them for a whole 10 minutes before removing from oven. The peppers should be wrinkly, the cheese melted and the meat browned on top.
You can substitute spinach for kale.
You can substitute the diced bell peppers for zucchini or yellow squash.
Serve the peppers with rice and some fresh fruit.
Adapted from Whole30