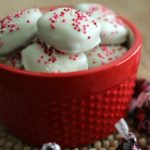 Print Recipe
Valentine's Chocolate Pretzel Bites
A salty and sweet combination for Valentine's Day.
Square Waffle Pretzels

Hershey's Kisses

White Chocolate Coating

or almond bark

Sprinkles
Step one: Place waffle pretzels on a baking sheet lined with parchment paper.

Step two: Place one unwrapped Hershey's kiss on each pretzel.

Step three: Bake at 350 degrees F for 2 minutes, or until you notice they are getting glossy and losing their shape.

Step four: Take them out of the oven and place another waffle pretzel on top, squishing the chocolate a little.

Step five: Chill in the freezer for about 10 to 15 minutes, or until the chocolate has hardened.

Step six: Melt the white chocolate in a bowl and then cover each pretzel bite with chocolate completely.

Step seven: Place on a wire rack with parchment paper underneath to catch the chocolate drips.

Step eight: Before the chocolate hardens, sprinkle with festive Valentine's sprinkles.

Step nine: Let harden and either package up to bring to your get together or eat them instantly. The choice is yours.