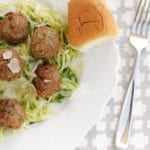 Print Recipe
Garlic Butter & Parmesan Zoodles + Turkey Meatballs
When it comes to summer meals, easy and light is best. And this Garlic Butter & Parmesan Zoodles with Turkey Meatballs recipe does not disappoint. It's fast. It's flavorful. It's the perfect summertime dinner.
1. Make your Zoodles with the zucchini. Either spiralize or use a veggetti.

2. Finely chop the garlic.

3. Heat up the butter and olive oil in a skillet. Add the garlic once it's heated. Cook the garlic for about 2 minutes, being careful not to burn it.

4. Add the zoodles and stir to coat with the butter and olive oil. Heat for 2 to 3 minutes.

5. While the zoodles are cooking, heat up the meatballs by following the directions on the package.

6. Stir in half of the Parmesan. Sprinkle with salt and pepper to taste.

7. Plate the zoodles. Add desired number of meatballs. Sprinkle plates with the rest of the parmesan cheese.

Enjoy!